Figured I'd be sick of chocolate by now. Yet as soon as I eat one, I end up eating many. Each day is easier than the last, rather than harder. I skip lunch, and dinner is much smaller than usual. Instead I snack steadily throughout the day and evening.
Today was a big day in the pool, with a friend and her three young boys coming to play with a very excited (and now very tired) puppy called Bella. The BBQ smoke wafting over the pool smelled incredible. Yet I stayed strong, forsaking chicken kebabs and pineapple rings for gluten-free chocolate mud cake.
Mum suggested such unhealthy eating wasn't setting a good example for the kids. I like to think that I taught a deeper and more valuable lesson, that of personal conviction, willpower in the face of temptation, and resistance to social pressure. My hero medal is in the mail.
By dinner time, the moral high horse had brought me to a special place called Dessertapoolza. Rather than risk being too full again, I skipped the main course and went right to dessert. Behold my creation, ripped straight from an alternative reality where its the children, not the parents, who say what's for dinner.
A scoop of chocolate ice-cream slowly melts into the hollowed-out centre of a slab of gluten-free chocolate mud cake. Atop the ice cream, a Caramello Koala lords over his sugary empire, leaning for support against the embedded slice of choc-caramel bavarian. King Koala is not well, you see. The sky opened and down came the hand of a greedy god, drizzling him with Cottee's ice magic. It was all too much for His Royal Highness. Driven cocoa loco, he opened the treasure vault and madly tossed away all the dazzling and precious royal M&Ms.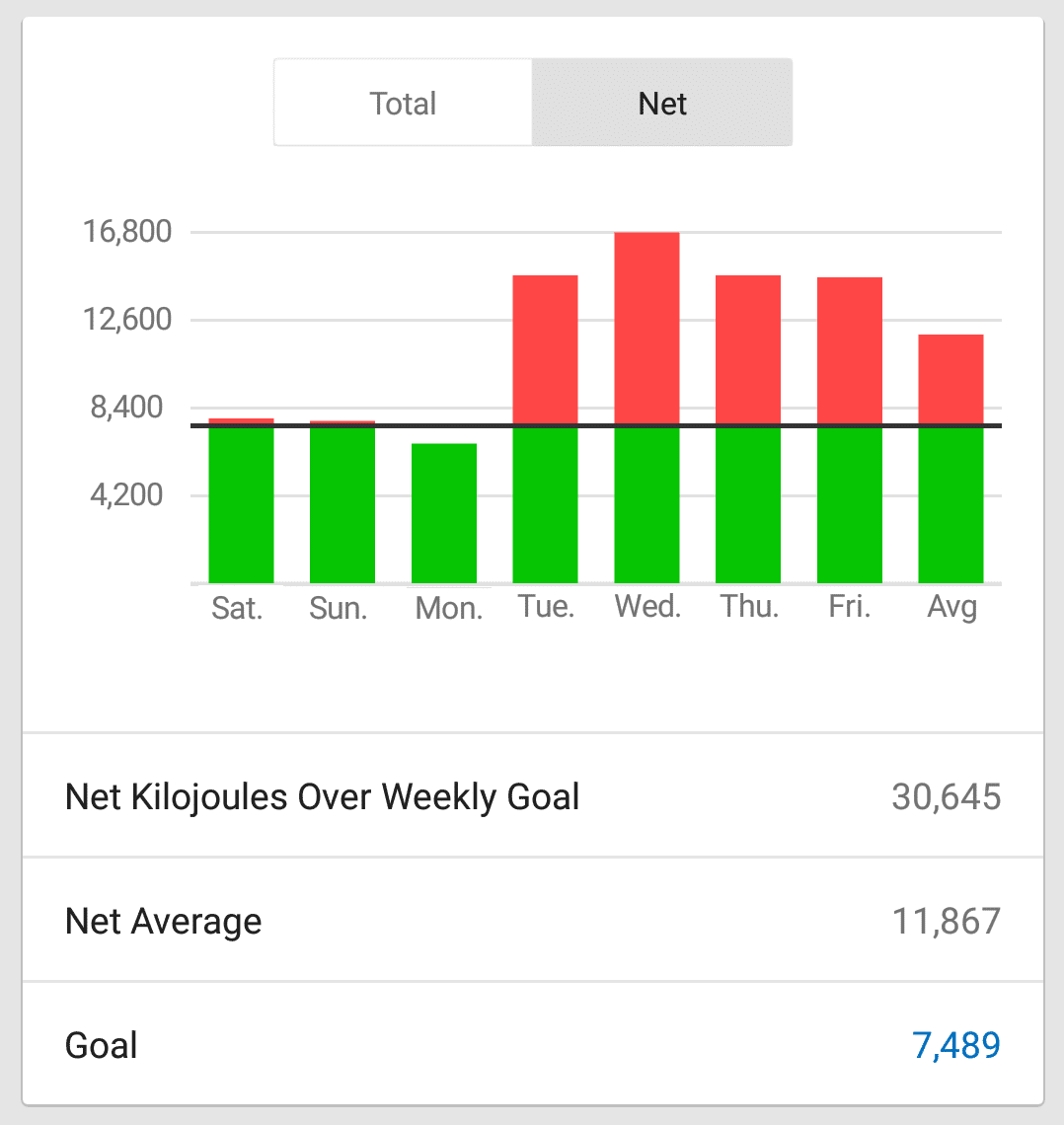 Daily Kilojoules, Day 4
Target
Consumed
% of Daily Target Consumed
Kilojoules
7,489
14,605
195%
Calories
1,790
3,494
Food Diary, Day 4
| Meal | Eaten |
| --- | --- |
| Breakfast | GF choc fudge brownie; Chocolate milk; Mocha; Freddo Frog; Caramello Koala; fun-size Salted Caramel, Snickers, Boost. |
| Lunch | Tim Tam; M&Ms; fun-sized Mars Bar, Snickers, Caramello Koala |
| Snacks | GF Choc Fudge Brownie (3); Dream white chocolate (1 row); Caramello Koala; fun-size Snickers(2), Flake. |
| Dinner | Gluten-free Choc Fudge Brownie; Chocolate milk; M&Ms; fun-sized Flake, Picnic, Boost. |
| Dessert | Tim Tam(2) |
---
Did you like this article?
Do you like this site?
Read Next:
Step into the world of film on Day 5 as The Chocolate-Only Diet's first clip shows two things: how to make chocolate-infused vodka, and that acting is surprisingly hard.
Give your thoughts on this article